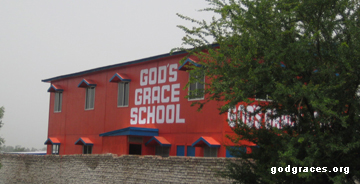 Current Infrastructure:
The God's Grace School provides computer education from class I onwards. The Library is well stocked. The classrooms are airy. The furniture is decent and sturdy. There is separate Activity Room for Pre-School and Pre-Primary children. Our playground has provision for volleyball, basketball, badminton and swings. The School has silent-diesel electric generator and cold drinking water facility supported with the School's own water purification plant based on softening of water and reverse osmosis process. The School provides its bus fleet for ferrying the children at minimal charges. The average teacher-student ratio is maintained at 1:30. Yet, the tuition fee has been deliberately kept low so that no child resident in the nearby colonies is denied high standard education because of financial constraints. More than 95 percent students are from nearby colonies.
Proposed Plan:
God's Grace School is expanding each academic year through higher enrollment as parents learn of the strong academic environs of our students and faculty. In addition to the original campus on the Okhla Embankment, we now have acquired land for a 'South Campus' a few kilometers away. The South Campus was inaugurated at the February 2008 Annual Function.
In addition to the existing structure, plan is all set for major construction. The architect, soil-tester and the Structural Design Engineer have concluded their work. The Bank has financed the expansion project, to be launched within 2010-11.