Dr. Syed Zafar Mahmood
(Chairman, God's Grace Group of Educational Institutions; Director General, God's Grace Foundation)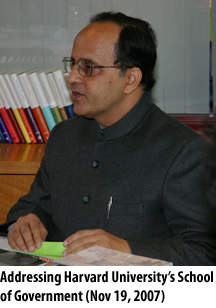 CURRICULUM VITAE
Born in Bahraich (UP) – June 8, 1951
Academic Record
Ph.D. (Public Administration); M.A. (Political Science) – Gold Medalist;
B.Sc. (Honours) Physics; Short courses in Computer Appreciation and Journalism.
All degrees awarded by Aligarh Muslim University (India).
Honorary Positions
Member of Court, Integral University (Lucknow, India). 2008 onwards.
Member of Court (equivalent to Board of Trustees) of Integral University located in Lucknow the capital of Utter Pradesh, India. More information at http://www.integraluniversity.ac.in/
President, Zakat Foundation of India
Hundreds of very poor children sponsored and educated in different educational institutions with hostel facility. Candidates helped in filling application forms for jobs and coached. Established ZAKAT HOUSE in Delhi with ZFI office, hospital, old age home and coaching centre. Running Happy Home (India) for poor / orphaned children and Mercy Home (India) for poor patients. Seriously ill patients are got treated at reputed hospitals bearing full expenses like kidney / liver transplant, months of dialysis, implantation of steel rod, etc. Paying monthly stipend to widows and other indigent women / men. Helping families stand on their feet and become self-employed. Getting poor girls married, paying poor students' educational fees. ZFI Team visited Gujarat disturbed districts, Tsunami affected areas, Kashmir earthquake, West Bengal death cases due to poverty, provided medical assistance and financed people to restart their life on firm footing.
Chairman, God's Grace Group of Educational Institutions
For BBA & BBA courses, conducts study centre of Hamdard University. Established and now Running (Recognised) God's Grace School in Delhi with 1100 children. Organized 9 month Java/eCommerce NIIT Course for poor students (partly sponsored by National Minorities Development & Financial Corporation, Government of India) and got them placed in jobs. Ran Coaching Centres with best city tutors for Secondary / Senior Secondary students (subsidized under Upward Bound Scheme).
President, Interfaith Coalition for Peace
Research for finding commonalities among scriptures, precepts and practices of various faiths, develop and publish them and take them to the masses, encouraging awareness and interaction, capacity building, conflict resolution, reconciliation and diapraxis.
Represented India at several international conferences / projects as an Indian Muslim Scholar
(4-week international project titled "Islamic LIfe in US" sponsored by US Dept. of State – 2004, First International Consultation of Muslim Scholars, Islamabad – 2005, Interfaith Conventions organized at Oslo and London 2006 and International Charity Convention, Hyderabad, India 2007)
Organized 11 interfaith Bridge Building Sessions in India in collaboration with various communities.
Honorary Trustee, Treasurer and Dy. Director General,
India Islamic Cultural Centre (1993-2003)
Collected funds from central/state Govts., companies and professionals and built the structure. Organised All India Seminar on 'Islam for Peace' addressed among others by Mr. I.K.Gujral, Former Prime Minister, besides annual Jashn-e-Milad-un-Nabi, Eid Milan, Lectures of topical interest and Diwali / Christmas functions for national harmony. Established Task Force on Employment and Training facilitating interaction between job seekers and officials of Govt. organizations providing technical training.
Publications, Panel Discussions and Addresses in India and abroad
Published articles in leading national newspapers / magazines regarding the readers' enlightenment. Participated in panel discussions on welfare topics on many TV channels. At Government request organized programs on Eid and Haj which were telecast at prime time. Addressed AMU educational meets AMU alumni in 13 states of India and ten countries including USA, UK, Germany, France, Belgium, Saudi Arabia, Libya, Qatar, Oman, Pakistan, UAE.
Edited University Magazine at AMU.
Rendered and published English version of famous Urdu poet Iqbal's poems including
"Message of Peace" and "Adam's Travelogue".